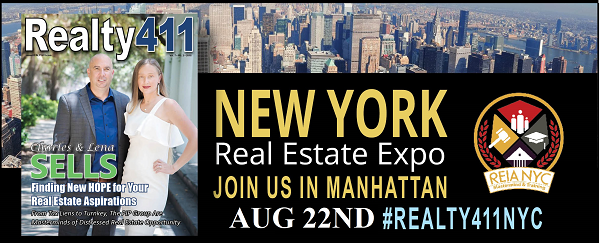 Are you ready to Grow Your Real Estate Business, Portfolio and Network?

We want this VIP EXPO TO EXPAND YOUR MIND and help you succeed.
OUR COMPLIMENTARY CONFERENCE IS THE #1 SOURCE FOR REI 411
The Westin New York at Times Square
270 W 43rd St
New York, NY 10036
Saturday, August 22nd
9:00 AM — 5:00 PM

Learn from TOP Leaders in REI, Local & National Experts

* Mingle with OUR TOP VIP Sponsors

* Meet Local & Out of Area Investors

* NON-Stop Tips for Real Estate Success

* Bring Lots of Business Cards

* Mingle with Leaders & Industry Pros

By Realty411 – The Original Realty Investor Magazine

Providing Resources Since 2007
JOIN US FOR 1 SPECIAL DAY OF NETWORKING & MOTIVATION – TAKE YOUR REAL ESTATE KNOWLEDGE TO A WHOLE NEW LEVEL.

Don't miss our complimentary real estate investor expo created and hosted by an accredited investor and journalist. Realty411 has been providing the resources investors need to be successful since 2007. Join us for our special annual expo celebrating REIA NYC. Realty411 is the original realty investor magazine – Our only goal is to educate, motivate and inspire others with our magazines, podcasts, webinars, and other resources.

Learn with PROVEN Leaders in the Industry … Both Local and Out-of-State Professionals!

Since 2007, Realty411's has provided resources, information, insider tips, and strategies that investors need to significantly expand their portfolios.

>>> Our Expo Offers Exclusive Advantages:

Receive unbiased knowledge from REAL investors
Discover the latest technology to expand your income
Meet other investors with common goals and mindsets
Develop relationships with leaders in the industry
Share new opportunities with potential clients
Learn how to help and mentor newer investors
Save money with offers and wealth-building ideas
Receive unbiased knowledge from REAL investors
We have owned national rentals for over a decade
Publisher has no bankruptcies, lawsuits, nor foreclosures
We strive to share life-changing information unavailable anywhere
Hosting complimentary networking events is how we "Give Back"
Other events charge hundreds of dollars, but this day is PRICELESS
We strive to motivate others and help them acquire resources for success

We know your time is VALUABLE. Time is the most valuable asset we have. We can always make more money; however, we cannot add more time to our life!

WE URGE YOU TO INVEST QUALITY TIME IN GROWING YOUR BUSINESS, CONNECTIONS, RESOURCES, KNOWLEDGE AND SPHERE OF INFLUENCE.

Meet Local Leaders & Industry Giants – From Coast to Caost

Influential Real Estate People & Business Owners Attending!

Find Potential Partners, New Friends, Build Your Circle of Influence.
Your Net Worth = Your Network

Mingle with Local Leaders & National Industry Professionals.

Honoring REIA NYC & Dr. Teresa R. Martin, Esq.